C
t
R Intellectual Property Competitive Advantages
In House Patent Attorney(PRC)
IP Update News
Call 852-2420 1880 for enquiry
Update News


Contact Us
Contact
We are an energetic, flexible and open-minded team ready to work hard for our clients. If you are interested in working with us, please send us a message.
Hong Kong Offices:
CtR Intellectual Property Co.
CtR Funding Valuation Limited
Phone: (852) 2420-1880
Fax: (852) 2420-1319
Direct Apply form
Select Registration Origin
Select Trademark Classes (Goods)
*
Select Trademark Classes (Service)
*
Please upload your trademark (jpeg, png, bmp, gif, or svg)
Trademark Renewal (Hong Kong)
Select Your Trademark Service
What News
雖然疫情在短時間會完結, 但呢個計劃仲進行緊, 相關行業的公司快啲申請啦……!
January 05. 2023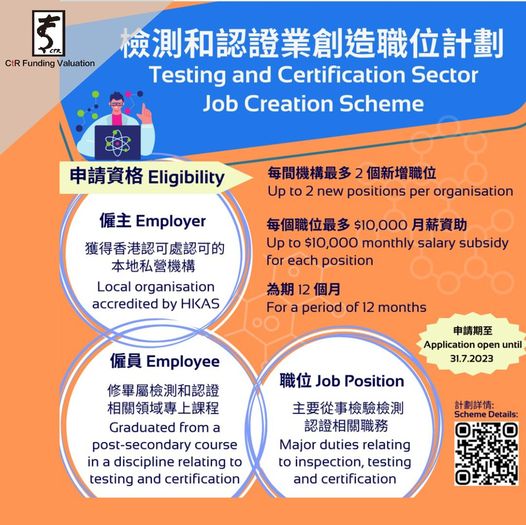 雖然疫情在短時間會完結, 但呢個計劃仲進行緊, 相關行業的公司快啲申請啦……!
<<檢測和認證業創造職位計劃>> 為紓緩因疫情導致的失業情況,第六輪「防疫抗疫基金」將分配資源, 在私營機構開設有時限職位,作為抗疫措施的一部分。「檢測和認證業創造職位計劃」( 下稱「計劃」)正是在「防疫抗疫基金」下推出的一項計劃。 這項計劃旨在鼓勵私營檢測和認證機構創造更多就業機會,並吸引人才加入檢測和認證業,從而壯大本港的檢測認證人才庫。 在計劃下,每間獲香港認可處發出有效認可資格的私營檢測認證機構,可為最多兩個合資格職位申請每月資助。申請僱主可就每個獲批職位獲得每月資助港幣10,000元或該職位月薪的50%,以較低者為準,為期 12 個月。 申請期由2022年8月24日至2023年7月31日。 ----------------------------------------------------- 瀏覽website: 🔗https://www.ctr.com.hk/main/cn/fv.php ----------------- CtR 助你公司尋找最合適的政府商業資助💪🏻 🤳查詢 TEL/Whatsapp:http://wa.me/85293575147?text=了解更多商業資助 #資助 #funding #資助顧問
Trademark Renewal Confirmation
Direct Apply form Confirmation